Residential Driveway Sealcoating
Do You Have A Residential Sealcoating Project We Can Help With?
Residential Driveway Sealcoating – Black Pearl Sealcoating, Inc
Black Pearl Sealcoating – Residential Driveway Sealcoating – 630-479-8616 – More than 20 years of Sealcoating Experience
Sealcoating the asphalt surface of a residential driveway – as the term suggests – "seals" the cracks that form over time and eventually cause sections of the driveway to break apart. It also presents a cleaner appearance because rainwater washes away dirt and debris easily from the smooth, non-porous surface.


Another advantage of Residential Driveway Sealcoating is that it helps guard asphalt against the sun's ultra violet rays and the damaging effects of chemicals like oil and gas – which are common on driveways. By filling in surface gaps, sealcoating reduces your driveway's exposure to oxygen and sunlight while also limiting how deep oil or gas can seep downwards into the foundational materials. This helps prevent damage that can occur to driveways during freeze/thaw cycles.
Residential Driveway Sealcoating results in an appealing black surface tone. It has a quality that helps it become more pliable from the sun's heat, which helps the driveway withstand traffic use without forming cracks.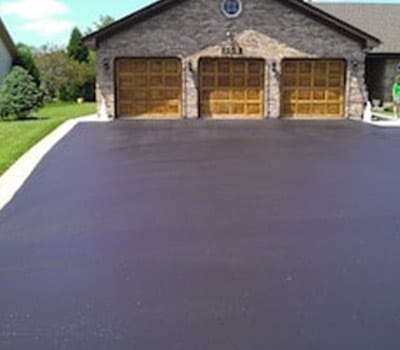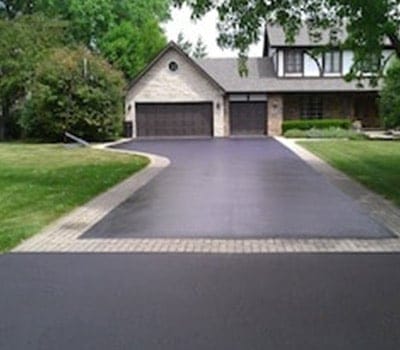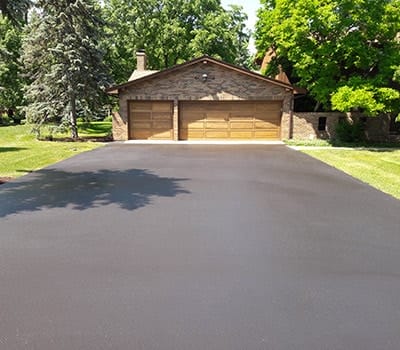 Benefits of Asphalt Crack Repair for Residential Driveways
Benefits of Asphalt Crack Repair for Residential Driveways
Water is among the worst culprits when it comes to causing damage to driveways. Once water makes its way beneath the surface of asphalt, it can wear down the driveway's foundation. If the water freezes it can cause heaving which causes cracks to form. Once that starts to happen, the cracks will collect debris and dirt and permit weed growth to appear – and the roots of the weeds can lead to even more signs of decay. Repairing driveway cracks before they turn into deep potholes is the most sensible thing to do – plus it also saves on money by prolonging the lifespan of your residential driveway or lot.
When Should I Call Black Pearl for Residential Driveway Sealcoating or Crack Filler Solutions?
Is your residential driveway starting to show cracks, discoloration and other signs of asphalt deterioration? Following the winter season – particularly one that experienced periods of severe cold – the natural thawing process can result in blacktop pavement forming cracks and showing decay. This is particularly true for asphalt surfaces that have not been professionally sealcoated. As we mentioned above, the key to preserving asphalt paved surfaces is to fill cracks as soon as they appear. Delaying repairs will only result in even more damage and perhaps the need for total asphalt replacement.
In some cases asphalt cracks can form as a result of a substandard driveway foundation, or if the layer of asphalt is not thick enough or was not blended correctly at the time it was applied. Soil movement, heavy vehicle traffic, invasive roots from plants and trees, as well as yearly freeze/thaw cycles are also common causes of asphalt breaking apart. With annual crack filling services by our experienced team, you can prolong the lifespan of your driveway and keep it looking good.
Black Pearl Sealcoating – Dependable, Affordable and Results That Last
If your residential driveway is starting to show signs of discoloration and decay, don't wait any longer to take action – contact Black Pearl Sealcoating today at 630-479-8616. We'll schedule a FREE estimate for you, and our representative will then evaluate the condition of your driveway and recommend the best affordable solutions for you. Your driveway is the first impression visitors have of your home – keep it looking good!
When you choose Black Pearl Sealcoating, you can rest assured that you're getting the services of an experienced local contractor – we've sealcoated driveways and parking lots of all sizes and shapes for our valued customers in communities throughout the Chicagoland suburbs.
Our Customers Love Us
"We called Black Pearl Sealcoating and 2 other companies to get estimates to sealcoat our driveway. Not only did Black Pearl have the best quote, but we had to wait 2 and a half hours for the other companies to give us estimates. Needless to say, we went with Black Pearl and are very happy we did."
"We were a little hesitant to use a company we didn't know to seal our driveway, but judging by our overall experience with Black Pearl Sealcoating, we're sure glad we did. Joe and Mike were very easy to work with, and they did everything they said they were going to do. Very professional!"
Professional Applicator Of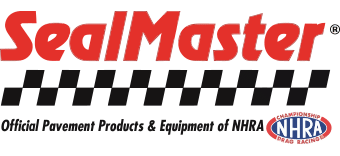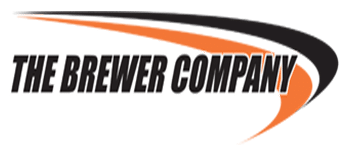 To learn more about Black Pearl Sealcoating or schedule a FREE estimate and contact our offices at 847-602-7806 or use the form below.