Welcome To Black Pearl Sealcoating, Inc
Commercial & Residential Sealcoating Services for Cook & Dupage Counties
Do You Have A Sealcoating or Crack Repair Project We Can Help With?
Specialists In Commercial & Residential Sealcoating
Choosing Black Pearl Sealcoating, Inc. of northern Illinois assures the highest quality service and customer satisfaction! We're an established family-owned and operated local business providing the industry standard in sealcoating products and application – and we guarantee coordination and clear communication with our customers at each project we do.
FOR A FREE ESTIMATE CALL BLACK PEARL SEALCOATING TODAY AT 630-479-8616
Looking to save big money over the long term from premature asphalt replacement? Sealcoating by Black Pearl helps to sustain and beautify your investment while safeguarding it from wear and deterioration that can result from harsh Midwestern weather conditions.
At Black Pearl Sealcoating, our team doesn't use sprayers. Instead, we apply our sealer by brush – it's a better choice for application because a brush simply leaves a thicker, more durable bead of sealer over asphalt surfaces. Brushing not only enhances the look of a driveway, it also offers better protection than a spray application.
Check Out Some Of Our Work Below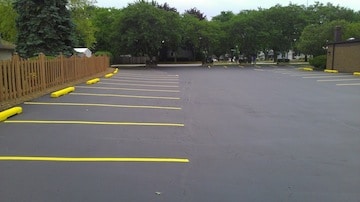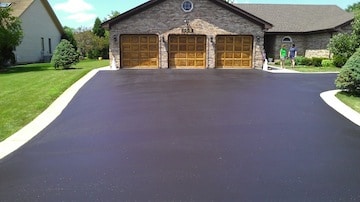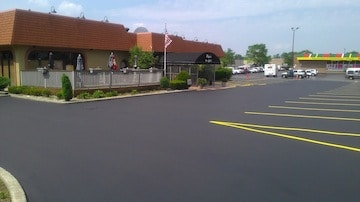 Our Sealcoating
Because there are no two projects alike, we don't conduct business based on estimates made over the phone – our commitment is to prolong the useful lifespan of your driveway or parking lot and save you the need for expensive resurfacing.
Residential Sealcoating
Black Pearl provides a wide assortment of residential asphalt solutions including: asphalt patching, crack filler and sealcoating. We're proud of our well-earned reputation for providing our residential customers throughout the northwestern and western suburbs with quality services.
We make it a point to communicate with all of our customers so they are informed and up-to-date on the status of the job site, and we provide helpful suggestions on the specific needs of their driveway or lot.
Commercial Sealcoating
Black Pearl performs seal coating and lot striping for a range of commercial lots: restaurants, shopping plazas, retailers, office facilities, churches, government facilities, sports or community facilities, schools and more. We also serve large multiple-unit condominiums and townhome associations too.
Black Pearl offers a full program of professional sealcoating solutions that include asphalt patching, crack filling, seal coating and line striping for our commercial customers – call today for a FREE estimate at 630-479-8616
Our Customers Love Us
"We called Black Pearl Sealcoating and 2 other companies to get estimates to sealcoat our driveway. Not only did Black Pearl have the best quote, but we had to wait 2 and a half hours for the other companies to give us estimates. Needless to say, we went with Black Pearl and are very happy we did."
"We were a little hesitant to use a company we didn't know to seal our driveway, but judging by our overall experience with Black Pearl Sealcoating, we're sure glad we did. Joe and Mike were very easy to work with, and they did everything they said they were going to do. Very professional!"
Thank you, Joe, for the amazing job you did with our office building's parking lot!!! We had a local company sealcoat our lot the last few times and it looked like they applied watery paint. After the winter it was almost completely gone every time.
I don't know what's in Black Pearl's seal coat mixture but our lot has never looked so dark after the winter season. The coating Joe applied seems much thicker and made the lot look like new. Thanks again Joe for the great work!!
John from the Fox River Institute in Geneva
Professional Applicator Of